Sendai Daiichi High School was established in 1892 as Miyagi prefecture's boy's junior high school. Since then, it has had nearly 130 years of history. In 2010, the school underwent coeducation, inviting girls to enrol for the first time. In total, over 37,000 graduates have been playing an active role in our global society. Students at Daiichi seek to broaden their humanity while realising their full potential. Enrolment in the school is highly competitive, with only top percentage of students being selected.
Our school is known for its variety of extracurricular programs, such as athletic meets and the annual school festival, which has reportedly attracted the highest attendance rates of school festivals in the prefecture. The walking marathon is a yearly tradition where students make a nearly 40km trek to Akiu Onsen. These events are proudly organised and run by the students themselves, which adds to a rich and fulfilling high school experience. Through these, students develop real leadership skills through exercising their autonomy, expressing themselves and acting with responsibility.
This school has been designated as a super science high school (SSH) since 2012.
Our school has been developing research and education in the field of science and mathematics under the theme of "Fostering leaders in science and technological innovation for the advancement of global knowledge." In addition to the natural sciences, many students at our school also pursue development in humanities and social sciences. As a result of this project, our school has been placed in the top 3% of academic schools, nationwide.
Our school operates under the motto:
"To nurture self-reliant students with sound foundation in critical thinking, to become valuable members of society."
The school, known for its long history and strong sense of tradition, strives to continue creating changes with students in the modern world while respecting its long-standing values. Through the promotion of self-reliance and co-operation, we want to cultivate conscientious and disciplined individuals who respect others and make meaningful contributions to society. We hope for them to take the lessons from the past to further progress our present society, as well as leading the next generation into the future.
Around the time of the Russo-Japanese War, the moral tone of the students was corrupted, and this situation gradually produced a trend of decadence throughout Japan. To reverse this trend, the school motto, "Jicho-Kenshin" was proposed on the anniversary of the founding of the school on June 6, 1906. This motto was suggested by Mr. Kawada, the school principal at that time, and was finalized after a thorough discussion.
Mr. Kawada said, "'Kenshin', which means 'self-sacrifice', is a real virtue. It is impossible to achieve perfection of character without it. 'Jicho', on the other hand, means 'to respect yourself', but it is not inconsistent with 'Kenshin'. To perfect your character by following the principle of your conscience and renouncing your own self-interest is the highest form of 'Jicho'. And the only way to achieve this is to hold the spirit of devotion with self-sacrifice; and by carrying this spirit, you can respect yourself the most."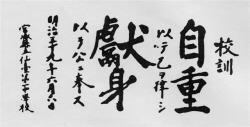 In the early years of the Showa period, Japanese society was in a deadlock and the Manchurian Incident broke out. Japan became increasingly militaristic, and the Japanese government declared a state of emergency which encouraged people to become more patriotic.
During this time, a lot of people found the situation difficult, hence they proceeded to live a decadent life. Despite those trying times, in 1932, Mr. Kodaira, the school principal at that time, unveiled the slogan "Jihatsu-Nodo" which means "Self-motivated and Active". This year marks the 40th founding anniversary of the school. He never blindly followed the national authority but persistently respected the students' initiative and was determined to cultivate it. He believed in the uniqueness of the school's education and the independence of the educational authority. Thus, because he stood by his educational policy under this slogan, the students were able to do their duties earnestly even during such turbulent times.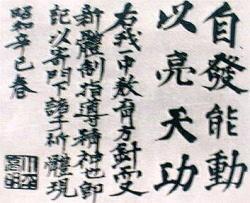 Super Science High school
Miyagi Prefecture Sendai Daiichi High School has been designated as a Super Science High School (SSH)
since 2012, by the Ministry of Education, Culture, Sports, Science and
Technology (MEXT).
Our school has been developing research and education in the field of
science and mathematics.
We are providing several SSH projects, which inculde "Teaching Physics in English".
宮城県仙台第一高等学校
〒984-8561
宮城県仙台市若林区元茶畑4番地
TEL : 022-257-4501
FAX : 022-257-4503


スマホからもご覧になれます。
バーコードリーダー機能で
読み取ってご覧ください。